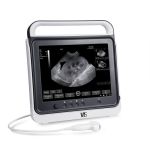 The latest evolution in the Scan Pad range - the UK's best-selling ultrasound equipment for small animal pregnancy detection. Particularly popular with those scanning dogs, cats and goats.
PRE-ORDER - ESTIMATED 2 WEEK WAIT
Details
Why choose the Scan Pad?
The original Scan Pad was developed by Vet Image Solutions in response to demand for a high-performance yet cost-effective ultrasound machine. It is specialised for quick, accurate pregnancy detection in small animals.
Just like the original, the new Scan Pad Plus prioritises:
Superior image quality: optimised for pregnancy detection in small animals, this portable scanner's crystal clear image quality - displayed on a large, 15" colour LCD monitor - makes obtaining professional-quality images easier than ever.
Safety: the Scan Pad Plus is a professional-grade ultrasound machine. Unlike most other machines in its price range, the Scan Pad Plus complies with international standards on ultrasonic safety, ensuring that your pups, kittens, and kids are scanned safely. This also means that this machine can be responsibly used by those looking to offer a scanning service for others.
Portability: the Scan Pad Plus weighs only 4.8kg. It is also equipped with a rechargeable battery for emergency situations. 
What are the differences between the Scan Pad and Scan Pad Plus?
Same high-resolution probes - choose from convex, micro-convex or linear probes
Same software - those upgrading from the original will be pleased to find that they do not need to learn a whole new interface
Same storage capabilities - capture still images and cine loops
But..
More robust case - many of our customers bring their machines out to farm environments. The new Scan Pad Plus is protected in a more rugged outer shell
Longer warranty - 2-year standard warranty on all new Scan Pad Plus machines. Probes are 1-year standard warranty.
Optional carry case - equip your new machine with a high-quality, custom-made carry case for an additional £50.
More Information
More Information

| | |
| --- | --- |
| Brand | VIS |
Reviews